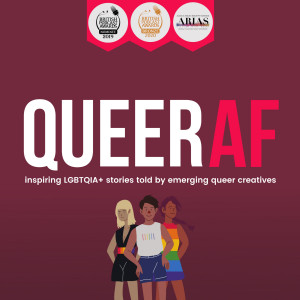 #QueerAF | queer inspiring LGBT + stories
By QueerAF
QueerAF is the award-winning one-of-a-kind podcast that pays, mentors and supports LGBTQIA+ young people with vital stories to tell.
Visit our independent platform funding queer creatives for the most up to date information: wearequeeraf.com
The social enterprise podcast, with its roots in collaboration and with funding from National Student Pride, gives young queer creatives a crucial leg up on the career ladder. For many, it is their first paid audio commission. Each week you can listen to beyond the binary stories about queerness, sexuality and identity. All our shows are created with a budding LGBTQIA+ audio producer.
We've won in the British Podcast Awards 'Moment Of The Year' category, with four nominations over the years. We've also been recognised by the ARIAS 2021 'Impact Award' shortlist alongside BBC1Xtra too. Download and take the UK's best lesbian, gay, bisexual, trans and queer story podcast with you. Get the show in all the places podcasts exist.
https://www.wearequeeraf.com/podcast/
If you like our podcast, you'll love our free weekly newsletter that sums up the LGBTQIA+ world and supports queer creatives kickstart their career. Sign up now
https://www.wearequeeraf.com/subscribe/
---
See acast.com/privacy for privacy and opt-out information.
Latest episode